Salesforce

and

AMS

Implementation Services
Salesforce Implementation Services include expert support across consulting, customization, integration, and more. When customizing your Salesforce platform by leveraging Salesforce Implementation Services, your organization could see benefits across at least three teams. Results will be an enhancement and streamlining of sales, customer service, and marketing processes, as your software will be sculpted to align with your organizational goals.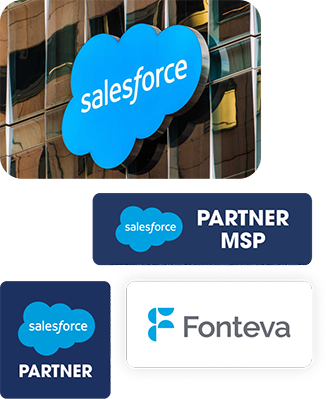 Salesforce Implementation with
fusionSpan
Our carefully cultivated team of technologists are not only tech-savvy, but have extensive experience in associations and nonprofits. You're not just working with a Salesforce  implementation team that understands Salesforce – they know exactly what an organization like yours needs to function at its best, and the technology required to make that happen.
Whether starting from scratch or searching to upgrade your system's capabilities, fusionSpan provides strategic consultancy and training. As part of our Salesforce implementation services, we'll roadmap your Salesforce goals and create a tailored plan so your organization can hit the ground running, reduce friction, and work at optimum propensity.
Plus, when working with our team, get access to the exciting developments of fusionSpan's Innovation Lab, home to a wealth of cutting-edge solutions that improve your Salesforce experience:
fusionConnect – the IPaaS integration that ensures data flows swiftly between systems without disruption, using a structure that creates future scalability and stability
Salesforce Accelerators – custom features to add to your Salesforce implementation that amplify and enhance your product
Automated testing – get insight into future issues or vulnerabilities in your software by thoroughly inspecting the components of your system
The world's top CRM, Salesforce, provides organizations with a complete platform that builds and maintains strong relationships you can nurture and support, long term.
As a trusted Salesforce Partner and Salesforce Consulting Partner, fusionSpan has over 75 certified Salesforce Consultants with the expertise and capabilities to build custom solutions that meet the unique needs of your organization.
fusionSpan works with the following Salesforce clouds. These clouds can be added to your Salesforce platform to customize your software and better pertain to your organization's requirements.
Association

Management

Software (AMS)
At fusionSpan, we implement and support Fonteva and Nimble AMS. Your fusionSpan implementation team can help you identify which technology suits your organization best to keep it running smoothly and moving forward.
Leading Implementation partners for Fonteva

Awarded Fonteva Implementation Partner of the year in 2017-2022 at Fonteva User Conference
Leading Implementation partners for Nimble AMS
Need help with your AMS implementation?


Speak to a fusionSpan expert about how we can help.
Salesforce Implementation Benefits
Salesforce implementation ensures that your business meets the needs of your prospects and customers consistently.
Show you understand your customers' goals
Demonstrate your understanding of customer needs and expectations with confidence, backed up by data. Eliminate the possibility of transactional interactions by knowing who your prospects and customers are, what they need, and illustrate how your services can genuinely help solve their pain points.
Reduce friction in support interactions
Help solve complex problems harmoniously, waving goodbye to fragmented interactions, and allowing support to be carried out efficiently. Build trust with excellent customer service, and keep information easy to access and understand, at hand whenever help is needed.
Streamline your teams and maximize their efforts
Consistent interactions across departments are expected by customers, yet sales, service, and marketing often feel unaligned. Increase employee productivity with an intuitive system, make sharing information between teams simple, and ensure customer communications are congruent with those that already took place. Communications with customers will be coherent and personalized, also boosting customer loyalty to your business according to Salesforce.
Personalize offers and experiences
Know who your prospects and customers are, and provide content and experiences that answer questions. Understand your customer segments and behavior patterns with organized data and accurate reporting, meaning you know what customers like to engage with, and where they like to do this. Then, you can reach customers where they like to be engaged with, in the ways that they like to be engaged with.
The Salesforce
Implementation

Process
The implementation process can take anywhere from 4-12 months, depending on the size and scope of the project. The implementation process usually looks like:
We believe we are best able to serve you as technology experts when we have a deep and thorough understanding of your business needs, what works well, and what's been problematic in the past. After we identify your specific needs and fully understand your goals, we hand-select the best technology choices for your organization so you can move forward with the process confident with the plan that's been tailored to your needs.
We use sprint-based agile methodologies that rely on a collaborative process and ongoing feedback to ensure your system implementation goes as smoothly as possible. This guarantees consistent progress and ongoing client communication throughout the project, so you are never surprised by the final product. With a dedicated PM resource, you always stay connected to your team and project.
Once your system is implemented, you'll have the tailored technology to move your organization forward. Comprehensive testing prior to launch ensures that things go smoothly once your system is live. At the end of this implementation process, your staff receives the training they need to ensure effective use of your new technology so transitioning the team is a smooth and painless procedure.
Your new software is available to your members and the public. We love celebrating this major milestone with our clients!
Post-Implementation Support and Managed Services
Implementation is just the beginning of your partnership with fusionSpan when you take advantage of our Concierge Service. Post-implementation, we offer a seamless transition to a dedicated Managed Services team. This team will maintain your new system and help you navigate and challenges or difficulties you come across.